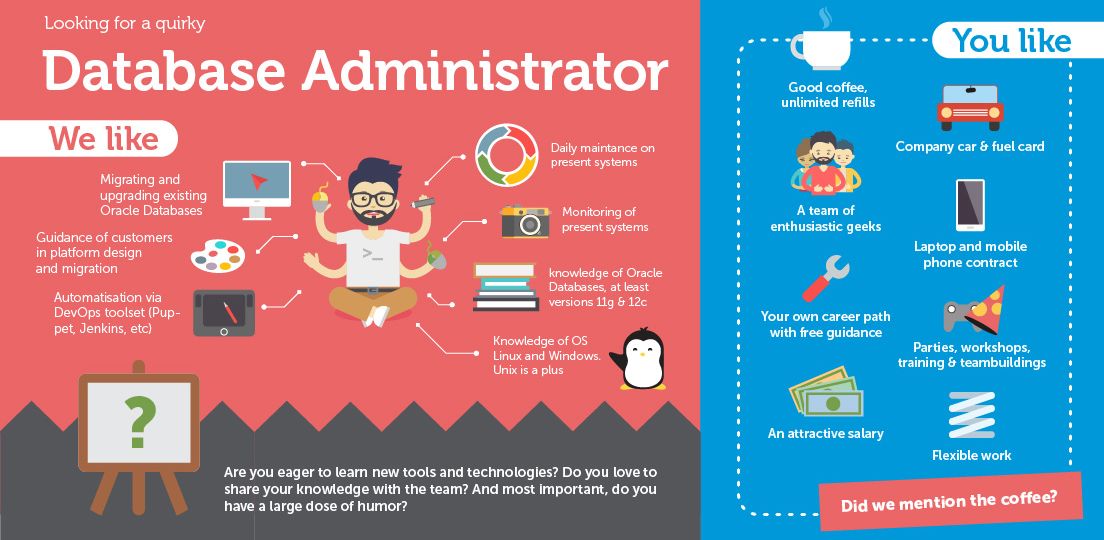 How you explain to your friends what you do do
I am building a career in a Benelux IT organization, where I make sure that all the information that the end user needs to do his job quickly and safely is displayed to him. For instance, I take care that all the information coming from underlying databases appear beautifully on your computer screen.
What you really do
As an Oracle Database Administrator you install and configure the Oracle databases of our customers, which are both simple set ups and high available platforms. You prepare and conduct the migrations and/or updates of the existing Oracle Databases. Besides that, you are responsible for the performance, tuning and daily maintenance. Guidance of customers in platform design and migrations is also one of your responsibilities. As a member of the BRYXX DBA team you will perform the automatization through the DevOps toolset of Puppet, Jenkins, etc.
What we ask of you
You show experience in Oracle DB (min. 11g and 12c) and have good knowledge of Linux and Windows, Unix is a plus
Oracle RMAN, Oracle Cloud Control and Oracle Dataguard are no secret to you. If you know Real Application Cluster (RAC), you rule!
Performance tuning, system as query show no problem. Knowledge of low virtualisation (VMWare) and OVM is a plus
Experience with Oracle Cloud offering, and Oracle Middleware stack is a bonus
Your Dutch and English are fluent, speaking French is a hit
How you tackle this
You are independent hard worker who understands technical as well as business concepts. On top of that, you are willing to grow and carry responsibility. That is why you show initiative and think along. Good communication skills are crucial, and you are not afraid to give feedback. And above all, you have a good sense of humour, as we like a good laugh!
We offer you
A no-nonsense work environment with the necessary space for personal improvement and initiative
Not only new colleagues, but also new friends
An attractive salary
A company car with fuel card, laptop and phone contract
And lots of team activities, reductions and fun events
Do you see yourself being part of our squad? Click here to apply!